entrepreneurship
Entrepreneurs are revered as the assets of a society and they need to be motivated and encouraged as much as possible. Entrepreneurs have the biggest impact on a society and these creative individuals take the risk to change the way we live and work. Entrepreneurs are responsible for bringing us the most important innovations of our time. Revolutionaries like Steve Jobs and Mark Zuckerberg were people who took the risky steps to change the face of humanity.
Like many other entrepreneurs, their revolutions have improved our standard of living and in addition to creating wealth from their entrepreneurial ventures, they also create jobs and further the development of society.
So the question stands, why kids never get to express or learn entrepreneurial skills when businessmen and women are the backbone of the global economy. It's regressive of our current system to expect someone to spend 20 years in education and then be able to learn entrepreneurship in MBA programs when most of these programs create job seekers rather than leaders and businessmen. Most people only begin to dream of their own startup by the time they are in their mid 30s or 40s, and realistically speaking society is moving so fast in terms of innovations that their knowledge has already been outdated.
---
"want to know more?"
Knowledge Ecoonomy
The revolution began with the invention of world wide web and it is steadily taking over the economy. Thus, Our economy has completely transitioned from Industrial Economy to Knowledge Economy. more
Early Age
Educators agree that the best age to learn a skill like math or language is ages 5 - 11 years old. Similarly, children need to start learning coding at an early age to build a deeper foundation for their future. more
Freelance Economy
In the near future, nearly all sorts of jobs will be extinct and the concept of a linear career will disappear. Large companies today are giving most of their jobs to freelancers who work on their own terms rather than hiring long-term employees. more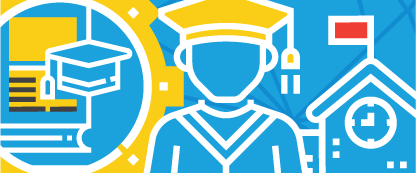 Education System
The current education system is not in line with the demands of the current economy. In the age of Information it is reductive to use the model of education which is already outdated.
---
---
Technology and the free-flow of information has allowed many young people these days to develop on their innovative ideas but there's still a lack of resources that can teach and enhance a student's entrepreneurial skills. Children of businessmen often become businessmen because of the environment they grow in, but this should not be limited to people with a business background.
Children can begin learning and improving their entrepreneurial skills as young as 6 and we great examples of young people who started early and built something amazing. Thomas Suarez who was 12 year old boy when he first sold his own creative apps on the apple store and now has a networth of $200 million! There are many other business magnates like Richard Branson who started their own business at a very early age. Kids are taught a lot of things at school that might not be necessary for the long run but equipping every child with these skills will create extraordinary results. Children should be given the tools to express their creativity, this is why at Kidocode we have started a new initiative called "Kidopreneur" to enhance business skills in all of our students. We plan to teach them about finance management, business development, accounting, and administration at a young age so they grow up to be creators instead of users.We create entrepreneurs today to create future leaders and revolutionaries of tomorrow.